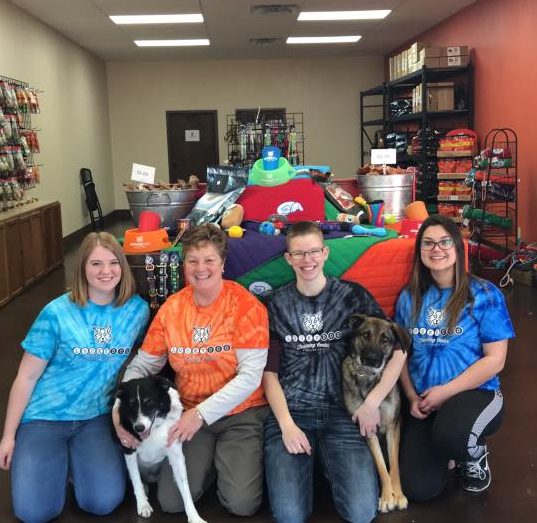 Our Story
Way back in 2013, Melinda struck out on her own to open "Lucky Dog Training," a positive reinforcement-based training facility that focused on the human side of dog training. The first year was a lot of hard work and a lot of learning, but it paid off! The Lucky Dog family continued to grow as Dresden joined in the spring of 2015, and we eventually outgrew the small building we occupied. In April of 2017, we moved to our new location and rebranded to "Lucky Dog Training Center." In this new facility, we have space to grow and hold more classes, workshops, seminars, and more! Katie and Lauren have joined since and we're so excited to have such a great team.
Interested in growing with us? We're always looking for dedicated, positive people to join the Lucky Dog team! Send your resume and cover letter to info@luckydogtrainingcenter.com
Melinda Meche
Owner/Trainer
Melinda has been training dogs (and their people) since 2010 and has helped over 3,000 clients to date! She teaches a variety of classes, from puppy and manners to tricks and treibball! Her passion for training dogs and helping owners communicate with them is an ongoing education, which is why she's constantly learning and improving her training methods and encouraging the other Lucky Dog trainers to do the same!
Dresden Graff
Trainer/Behaviorist/CTDI
Before moving down to Texas, Dresden was nationally competitive in AKC agility with their papillons Lilly and Knight. These days, Dresden happily shares their life with four papillons; Scout, Harley Quinn, Renegade, and Poison Ivy, and a big, goofy GSD mix named Hawke. Dresden recently completed their B.S. in Behavior Analysis at the University of North Texas and competes in rally, obedience, and agility with their dog squad.
Katie Romig
Marketing & Retail Coordinator
Katie is a self-described dog enthusiast who comes from a family of lab lovers. She manages Lucky Dog's marketing, scheduling, and retail center, as well as helping out trainers when needed. Katie graduated from the University of North Texas with a BA in advertising in May of 2017.
Lauren Cochrane
Trainer/Retail
Lauren is the most recent addition to the Lucky Dog team! She's a recent graduate from the UNT Behavior Analysis department. Her focus right now is on Puppy Socialization and Manners while she continues learning and staying up to date on animal behavior and training methods alongside Melinda and Dresden. Lauren believes in the bond that she has with her two dogs Zoe and Scooter and is excited to help other families to build that bond through positive training.