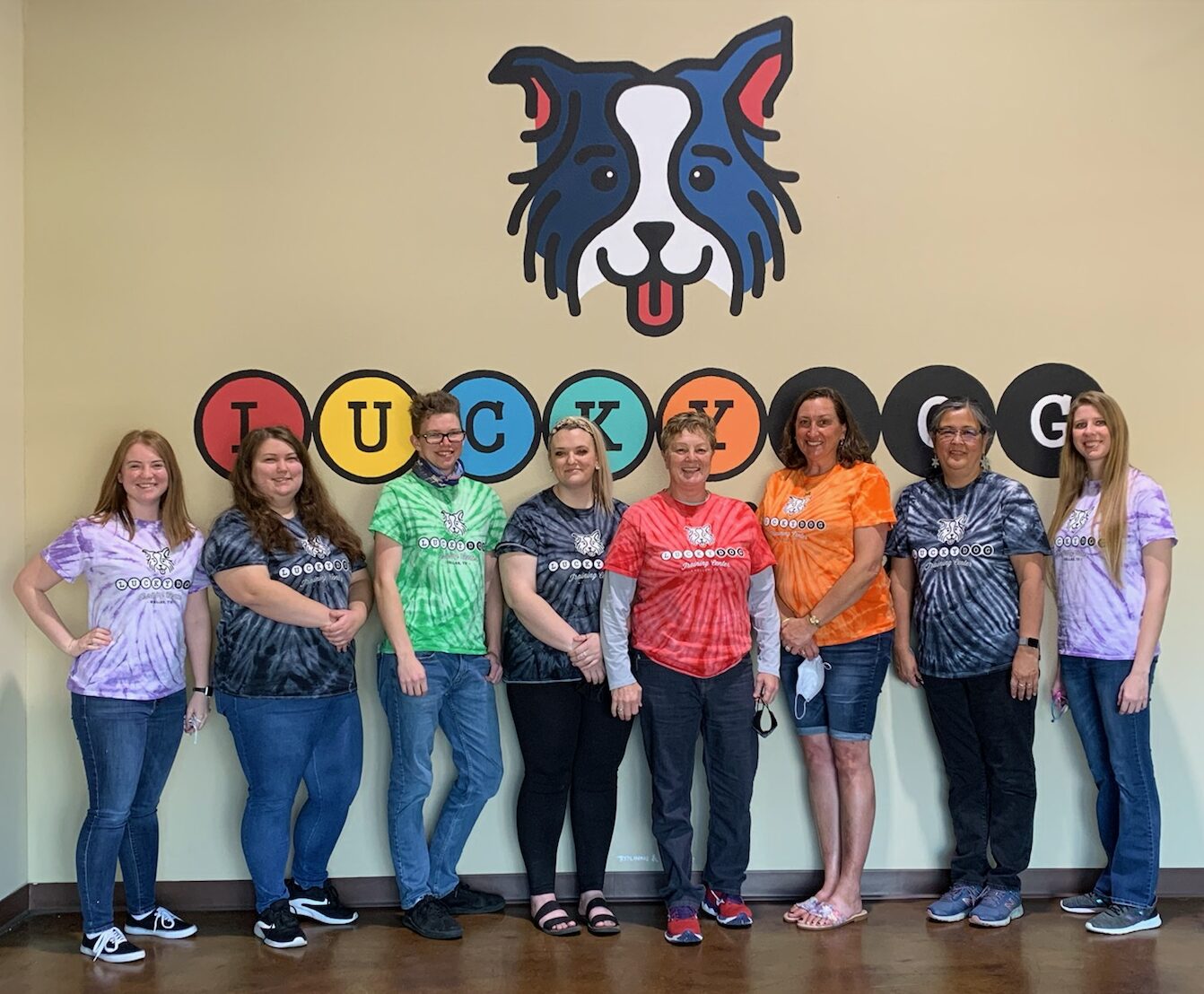 Our Story
Way back in 2013, Melinda struck out on her own to open "Lucky Dog Training," a positive reinforcement-based training facility that focused on the human side of dog training. The first year was a lot of hard work and a lot of learning, but it paid off! The Lucky Dog family continued to grow as Dresden joined in the spring of 2015, and we eventually outgrew the small building we occupied. In April of 2017, we moved to our new location and rebranded to "Lucky Dog Training Center." In this new facility, we have space to grow and hold more classes, workshops, seminars, and more!
Interested in growing with us? We're always looking for dedicated, positive people to join the Lucky Dog team! Send your resume and cover letter to info@luckydogtrainingcenter.com.
Melinda Meche
Owner/Trainer
Melinda has been training dogs (and their people) since 2010 and has helped over 3,000 clients to date! She teaches a variety of classes, from puppy and manners to tricks and nosework! Her passion for training dogs and helping owners communicate with them is an ongoing education, which is why she's constantly learning and improving her training methods and encouraging the other Lucky Dog trainers to do the same!
Dresden Graff
Trainer/Behaviorist/CTDI
Before moving down to Texas, Dresden was nationally competitive in AKC agility with his papillons Lilly and Knight. These days, Dresden happily shares his life with four papillons; Scout, Harley Quinn, Renegade, and Poison Ivy, and a big, goofy GSD mix named Hawke. Dresden recently completed his B.S. in Behavior Analysis at the University of North Texas and competes in rally, obedience, and agility with his dog squad.
Ciara Schreiner
Marketing & Retail Coordinator
Ciara graduated from Texas A&M University in 2019 with a B.S. in Animal Science. She and her dog, Belle, love training in the agility ring and hope to start competing in the future. She is a firm believer in the power of positive training to help build a lifelong bond with the dog and owner. Ciara manages Lucky Dog's marketing, scheduling, and retail center.
Hannah Alsup
Trainer/Retail
Hannah graduated from Carroll University May of 2018, having studied Animal Behavior. She grew up surrounded by animals and believes in the bond that one can have with an animal- like she does with her four dogs. She's primarily focused on puppy and basic manners right now, but plans to continue to learn and grow alongside her coworkers!
Mikayla Kincaid
Retail
Mikayla is an animal lover who discovered the world of dog training when teaching her first chihuahua tricks at 15. These days, Mikayla has a border collie named Aremis that she plans to compete with in agility, rally, and dock diving in the near future.
Susie Williamson
Trainer
Susie is bringing her vast experience in conformation and performance sports to Lucky Dog and we're so excited to have her on board. She has been involved in the dog show world since 1975 and through her 20+ years of breeding Belgian Malinois under the Merson prefix, she earned the AKC Breeder of Merit Gold distinction. She was also a licensed AKC conformation judge for 12+ years and has exhibited dogs at the highest level of competition in 9 different countries.  Besides conformation, Susie has titled her dogs in agility, obedience, rally and herding and several of her own dogs and dogs she has bred are members of the American Belgian Malinois Club's Hall of Fame.
She has exhibited dogs in all variety groups and enjoys the various challenges each breed requires to be shown successfully. Her classes are structured for beginners to experts and her patient teaching style is suited to assist all dogs and handlers reach their full potential.
Stacy Bols
Trainer
Stacy has 20 years of dog training experience and more than 14 years of agility training experience. Stacy has competed successfully with both large and small dogs in various venues over the course of her competitive career and her students range from Border Collies to Labradors to Pugs and many in between.
Kermit is her newest agility dog, a miniature schnauzer imported from Russia. Just starting out in her agility career is already taking 4 venues by storm competing in AKC, USDAA, UKI and ASCA. So far in her young career she has achieved the following, 2017 USDAA Cynosports Grand Prix champion, 2017 USDAA Cynosports Steeplechase Finals 2nd place, completed her UKI championship, MACH4, ADCH, competed in the 2017 UKI US Open, 2018 AKC Agility Nationals in Reno, 2018 and 2019 AKC Agility Invitational.